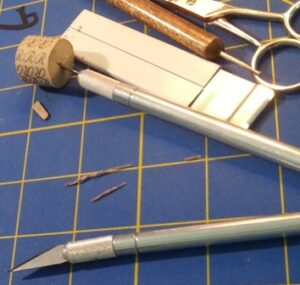 A little girl, a pair of scissors, a big, blank scrapbook, and Sears catalogs. A once-a-year advertisement, the catalog was something we didn't DARE cut until both mom and dad had looked through it enough to their liking. It had perfect pictures of the prettiest toys. My mom encouraged me to cut out my favorites for keeping. Acid tape turned my cutout dreams mustard-y tan yellow over time and left them to float free in the pages once the sticky was lost. I LOVED the idea of the keeping, whatever it was, cutting around it in triangles, or squares, or circles, and putting on a blank page where I could look at it forever. 
My Paper & Scissors art form began when I lived in Olympia, Washington. I'd had dioramas in my mind since 5th grade. We studied baboons and made dioramas of their habitat out of cut paper in shoe boxes. I have no idea what ever happened to that box…anyway, it had been on my mind so long that when  I started taking pictures of the architecture in town, I began to recreate them out of paper. It's all about the windows. And the doors. And the details…


Working at the state Archives led me to discover demolished buildings and lost history. Their holdings are filled with the unknown, the forgotten, the stories no one has told in many moons.