Mariachi music. Green Chile. Viva La Raza!
Villa Park is a west Denver neighborhood of the Cowell Elementary Mustangs. It is bordered by Colfax, Federal, Sixth Ave., and Sheridan Blvd. While I was growing up here within this square area, there was only 1 grocery store by Martinez Park, one liquor store, and three churches. My family attended Presentation of Our Lady. This is the geographic area full of busy and not-so-busy streets, small parks, ravines, creeks, hills, traffic, a beautiful view of the mountains to the west, and of downtown to the east. Pikes Peak can be seen to the south on clear days as can expansive blue skys and fluffy white clouds. The Denver Broncos play at Mile High just over a mile away. Even though my other schools were out of this neighborhood, here's a shout out to Lake Middle School Knights and the Denver West Cowboys!

All pics taken by me on November 2012, except the Mexican Dancers. (Helen H. Richarson, The Denver Post)
This landscape got into my soul. The people; their aggression, their hope.
Villa Park Hearts is the parent company to Dos Chicas and Angela Yoder Designs. We are in the business of making beautiful things for you. We are  currently located in Washington state.
The Hand Bags
Dos Chicas– our first generation of unbeaded hand bags was started with four designs to honor our grandmothers who have all passed. Mexican oilcloth was a perfect choice because it is colorful and vibrant and we have strong ties to Old Mexico. We designed bags each grandma loved and fit her individual personality.
Ay Artbags– our second generation of high-end, hand-beaded bags was the natural progression of my work. These bags can take up to six weeks to complete because we take great care in the process. One-of-a-kind and unique, these are meant to display as art, or be used as your special occasion bag. No one else will have a bag exactly like yours!
The Artists
Ang, (that's me) runs everything while creating new ideas. She lives in fabulous Tacoma. T excels in creating new items that are fun and useful. She is our production guru and still lives in sunny Denver.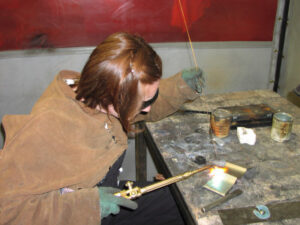 We are QFF: Queens of Feminine Frivolity! Life can get too serious and our work is meant to uplift you and make you smile. Yeah, it's okay to have some fun, and we mean to remind you of that often!
PRODUCT DESCRIPTIONS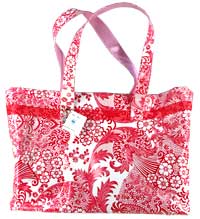 Our sturdy, colorful bags come with and without beads. Each bag is made with special girly details and two bonuses: a pewter charm and a story of the lady it is named after. Oilcloth is a material that withstands yoga class, swimming, babies, doggies, diapers, and mud. Hand wash your oilcloth with mild soap and water, but never submerge your Dos Chicas bag.
Villa Park Hearts buys oilcloth, beads, charms, and other items for our work from American companies. We then hand-cut, hand-bead, and machine stitch each one in our workshops. We aren't interested in getting big enough to "out source" or have our work done over-seas. We believe it is more important than ever to help keep our local and national economies vibrant by creating on American soil. Your purchase is proudly MADE IN THE USA and you are helping us support our families and our American Dream with your purchases. We very much appreciate it. XO
By the way, did you know that when you support/spend/shop from small businesses like ours that you strengthen our local economy? You give us a means to pay our employees and take care of our families; shoes for the kids, dance lessons, insurance, gas for the vehicles, food for our tables, etc. Yep. It's true. 🙂